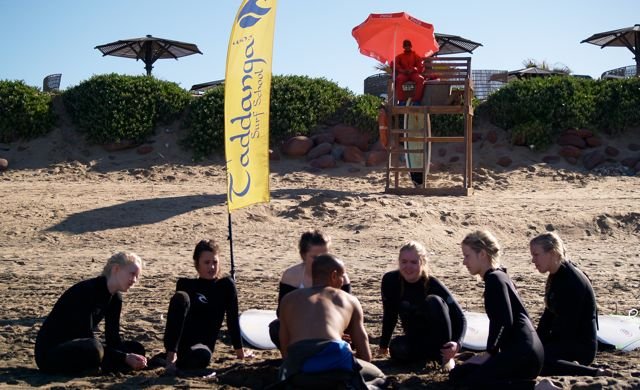 Beginner
Beginner surf lessons start with a 20 minute instruction on the beach, and after that it is time to get into the water!
You will learn to control your board and glide along the waves. You will be taught the basics techniques that you need to catch your first wave. Standing up on your board and most important staying on your board, while surfing towards the beach, are some of the things you will learn in this class.
Advanced
For those who already have got the basics, once warmed up and briefed on the conditions of the day, it's Taddanga surf time. Depending on your skill level the instructor will work with you on the points that you want to work on.
Multiple Surf lesson
Should one surfing lesson of 2 hours not be enough for you, you can book several lessons with us, spread over several days. Depending on how much time you have in Agadir or surroundings and how much of it you want to spend in the water, we will try to fit it into your schedule.
Once you taste the Moroccan Surf Spirit, you might want more. You can plan your surf dates with us in advance.
Day Class
Do you want to spend the whole day on the beach?
Surfing Moroccan waves as much as possible?
Try our Day Class. Your instructor will introduce you to the perfect surf spot for your skill level. If you want to improve on already existing experience or try your surfboard for the first time, we will find the right wave for you.
The Day Class includes two hours of surfing lessons and afterwards rental equipment to practice.